Timber Veneers
At Timberwood Panels, Timber Veneers are our specialty. We have first class, best available colour, grain, texture uniformity throughout our comprehensive range of species. We source species both locally and internationally to ensure we have the unique natural beauty of real timber. Whatever the choice for your project, Commercial or Domestic, from Stylish Corporate Boardrooms, unique furniture, or warm and inviting Partitions, Timberwood Panels Timber Veneers provide the inspiration to create the perfect solution to your interior and is only limited by your imagination. Being a natural product it's important to note that the same timber species can vary greatly in colour and pattern, therefore we invite you to contact us for a batch control sample.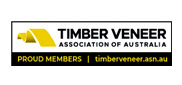 Click here to view Veneer Images.
Wire Brush Service
Timberwood Panels are giving Timber Veneerboard a new look. Ideal for feature doors and panels in commercial and domestic bathrooms, kitchens, furniture and joinery, our Timber Veneer Wire Brush Service can be applied to most of our Timber Veneers.
Using a revolutionary sander allows Timberwood Panels to apply a wire brush finish giving a more defined grain to the board. This process favours crown cut veneers but the final look will vary from species to species creating an original and unique look for your feature.
The Minimum size for this service is 0305x0120x3.6mm with Maximum size being 3660x1250x50mm.
Press Information for Timber Veneers (Hot Press)
All pressing substrates must be flat and have a solid core. Raw materials such as medium density fibreboard (MDF) or particleboard are ideal for pressing as they have been engineered to withstand the pressure and heat of a hot press along.
Please find below our Minimum and Maximum requirements when it comes to Hot Pressing:
Click here to see the Hot Press Line in action.
For Cold Pressing and PUR Line Pressing information please click here.
Pressing Guidelines
Hot Pressing
Minimum
Maximum
Press Length
1200mm
3650mm
Note: untrimmed & unsanded, see trimming & sanding guidelines below.
Pressing veneer onto foreign substrates is possible, however the following guidelines need to be followed:
Substrate cannot be pre-finished or have any kind of coating on the pressing surface
All substrates should be supplied oversized, various elements of the pressing cycle can impact the overall size of the board/substrate; infeed, outfeed, handling, etc
Substrates must be free of any machining; holes, rebates, grooves, etc. Any voids in the substrate can compromise the bond between veneer and substrate
Substrates must be free of any metal objects i.e. hardware, screws, nails, etc
To prevent bowing and equal thicknesses, veneer should be pressed on the opposite side (back) of the face
As an example, please see below guidelines for pressing onto a door:
Ensure the door is solid core, without any internal voids
Do not drill/rebate any hardware, holes and voids in the surface as this will compromise the veneer bond
Consider the press limitations when choosing a door size
To prevent damage please supply the door oversized as the door can be re-cut, once veneer has been applied
Mark the door clearly as to which faces are to have veneer
Refer to Trimming and Sanding guidelines below
Trimming Guidelines
Click here to see the Trim and Sanding Line in action.
Board Trimming
Minimum
Maximum
Trim Length
1800mm
3650mm
Trim Thickness
3mm
60mm
(weight dependant)
Sanding Guidelines
Board Sanding
Minimum
Maximum
Sanding Length
1800mm
3650mm
Sanding Width
750mm
1350mm
Sanding Thickness
3.6mm
60mm
(weight dependant)
Important Notes:
Crossbands can be trimmed and sanded
Sheets cannot be sanded without being trimmed
Sanders cannot calibrate boards/sheets
Sanding of custom veneer presses (doors) is subject to inspection
Sheets over 1350mm in width can be pressed but will be supplied untrimmed and unsanded, due to above limitations.
For more information you can download a document below